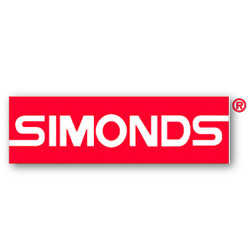 CNC Machinist
Louisville, KY
401K / Retirement plan, Dental Insurance, Health Insurance, Paid holidays, Paid vacation, Vision Insurance
Simonds Saw, LLC is now hiring CNC Machinists for our bandsaw welding and distribution center located off National Turnpike in Louisville, KY. These are 1st, 2nd, and 3rd shift positions. There is a differential pay in addition to base pay for 2nd and 3rd shifts.

Simonds Saw, LLC offers a competitive compensation and benefits package that includes:
• Medical, Dental, and Vision Insurance
• Paid vacation
• Paid holidays
• 401(k)
• Monthly gainshare bonus potential

As a CNC Machinist you will set up and operate specific machine tools to produce close tolerance machined parts per engineering routing instructions, with little or no supervision required.

Equipment used:
• Machine tools such as CNC Grinders & specialized custom-made equipment.
• Calipers, micrometers, and optical comparators.

• At least 3 years of machining experience.
• Must be currently eligible to work in the U.S.
• Must pass background check and pre-employment physical and drug screen.
• Must be able to set up and operate CNC machines with little or no supervision needed.
• Must be able to read blueprints.
• Must be able to make some program changes and be able to make adjustments to offsets accordingly.
• Good working knowledge of math and minimal trigonometry.

• Set up and tear down machine tools, fixtures, and tooling as needed.
• Download programs from central database.
• Make minor program or tooling changes as needed to improve process.
• Load and unload parts from machine.
• Frequently inspect finished product to control quality through the machining process.
• Monitor cutting tools and make adjustments as needed.
• Make machine offsets and index or change as needed.
• Keep immediate area clean and orderly.

• Ability to determine when cutting tools are dull and should be changed or indexed.
• Ability to make all minor program changes if needed.
• Ability to use measuring instruments, including calipers, micrometers, height gauges, depth gauges, etc.
• Ability to use mechanical equipment such as die grinders, belt sanders, and files.
• Ability to follow complex written and verbal instructions.
• Ability to read and comprehend drawings and shop routing.
• Ability to read and understand engineering routing and process drawings.

• 1st, 2nd, and 3rd shifts, Monday-Friday.
• Daily and weekend overtime as needed.

To be considered for an interview you must apply via email with your resume attached. You will not be considered unless you upload a resume. Click "Apply now" to get started.

Simonds Saw, LLC is an Equal Opportunity Employer.

17944